Spider Sue Studios Monster Model Kits
Welcome to Spider Sue's world of whimsy! Specializing in model kits, portrait dolls, and unique characters for your collection. Please check back often and feel free to contact me if you have any questions. Thank you!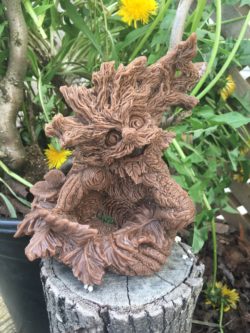 Zen Vessels
Price: $19.99
Zen Vessels are holders and guardians for whatever special objects you choose to bring peace, joy and harmony into your life. Whether that's crystals, air plants , or essential oils, these happy little tree sprite vessels are all welcoming and on a mission to please!
Original design and  sculpture was created by Susan Finley and  Each Vessel produced off that sculpture is then  hand cast in resin by the  Magical Wizard of Monz . (AKA Monz Designs)
Available in 3 colors: Terra Cotta, Pecan and Jade and measure approximately 5″x7″
Vessels are sold without contents , it is your choice how you wish to fill them!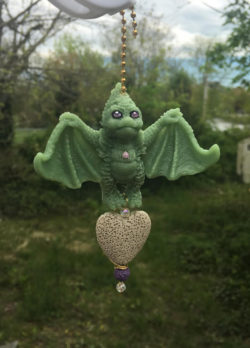 Dragon Breath Essential Oil Diffuser
Price: $12.99
This little Dragon is a breath of fresh air,Well , thats how things smell anyway when he's hanging around!
He's carrying a heart  made of lava stone which works beautifully to diffuse your favorite essential oils.
Measures approx. 4″x 3.2″ and is available on a ball chain (if you wish to attach him to a ceiling fan or lamp) or a hemp cord to hang other places.
Makes a Great car air freshener as well!
*Oils are not included*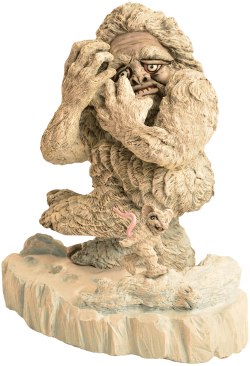 Yettieeee is the newest family member of the Monster Silly Spoof Series. A cowering 10.5 inches tall, this fearful beast assembles easily, just 7 parts, including the base and his small but mighty nemesis "Little Foot "The Infamous" Big Foot" Hunter. View the ad from Amazing Figure Modeler Magazine!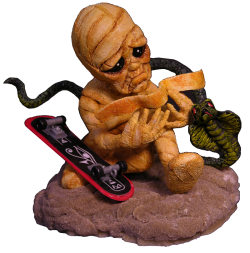 Boo-Boo Mummy Kit
Price: $59.00
Crash!!!  Boom!!! Bang!!!………………. Someone should have listened to his Mummy!   When the dust clears we find poor little Boo -Boo Mummy, pictured here re-bandaging his knee just moments after his near fatal skateboard crash (Well, fatal, If he was actual alive that is!!) Along side him his Fellow accident victim and best friend Achmed the Cobra a.k.a. Achy Snakey.
Boo-Boo Mummy himself sits a little under 4" tall and makes up 4 pieces of the 10 piece kit, which includes the skateboard, Egyptian decals, base, bandage and sidekick snake. Also included for the fun of it, a perfectly scaled screwdriver that fits into boo-boo's hands giving the option of having him look like he's fixing his skateboard instead of bandaging his knee. The screwdriver is also useful for removing the tiny wheels from the skateboard allowing easier decal application. Boo-Boo Mummy was sculpted by Susan Finley of Spider Sue Studios as part of her Monster Silly Spoof Series.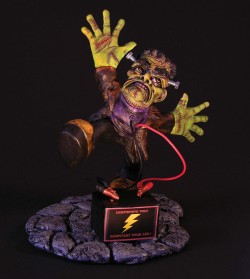 Jump - Start Frankie
Price: $59.00
If you start him up he's never gonna stop!!! This weeks forecast: sunny and continued warm… Damn!!!Tired of waiting for the perfect storm And in need of a real good lightening jolt? Well, so is Frankie and he's taking matters into his own hands, with his own Lightening Volt battery and jumper cables he'll have that heart of his pumping in no time! When not flying backwards ,Frankie stands 7 inches tall, includes seven parts and is shockingly easy to assemble.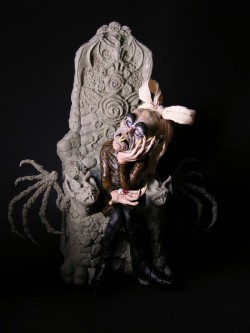 NosferRotTooth
Price: $129.00
Even the dead must floss,  Sadly , this news comes 100 years too late for NosferRotTooth shown here in the peak of pain  and suffering . Ouch!!! This soulless sufferer sits at 9 1/2 inches tall, tooth in hand , upon an elaborately carved  13 ½ inch tall bat throne base. The kit is comprised of  7 parts, which includes the throne.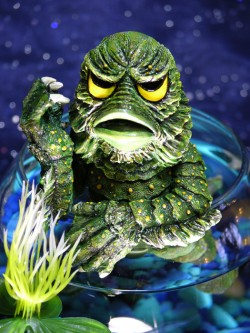 The Perfect Pet
Price: $50.00
Tired of walking the dog in the rain and scooping the cat's kitty litter? Then get set for the Perfect Pet! This little green guy flops in at a little over 6 inches tall and comes complete with his own fish bowl, gravel, plant and his favorite fish food! He assembles easy with just 3 parts , and is cast in translucent green resin so you can create some cool effects with his fins.